NOTICE: For our future monthly meetings in 2022, we continue to meet in person at the Nipomo Library as well as Zoom. Please join us in person if you can at the Nipomo Library; we'd love to see you!
We have switched to an RSVP system for our Zoom meetings. If you're NOT currently a member of Coastal Dunes CWC, and you'd like to attend our next meeting via Zoom, use our Contact Form to request the Zoom link (put "Zoom link" in the Subject line.)
Our next meeting is Saturday, August 6, 2022, via Zoom (and also in person at the Nipomo Library), from 10:00 AM to 12:30 PM. Speaker and topic are below.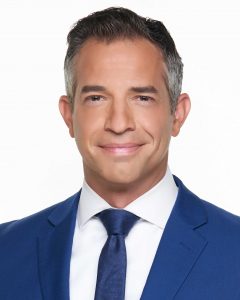 Speaker: Andrew Luria
Topic: For the Love of the Game: A 14-Year Journey from Idea to Debut Novel
Andrew Luria is a ten-time Emmy Award winner and has more than twenty years of experience as a news, sports, technology, and entertainment anchor and reporter.  He is currently with FOX 5 San Diego.  Andrew played baseball and football at Cornell University and semi-pro baseball for the Santa Barbara Foresters as well.  Andrew coaches his three kids in baseball, basketball, and football.  He also teaches an award-winning elementary school broadcasting class.  He recently published his first book:  a historical fiction time-traveling sports story for kids, called The Adventures of Charlie Marley.
Andrew will be in person speaking on the long road it took to go from the beginning of the book project to the final product, and the current effort to follow it up with another (in less time, hopefully!).  He will address how balancing life and career and navigating the book world has been quite the journey, and he is looking forward to sharing his experiences with everyone.
Our in-person monthly meetings are admission free and held at the:
Nipomo Library, Community Room, 918 West Tefft Street, Nipomo, CA
Directions: From 101 northbound or southbound, take the Tefft street exit.
Proceed west for .9 mile. At Orchard, turn right into library parking lot.
Date/times: Saturday mornings (the first Saturday of each month unless a holiday weekend)
10:00 AM- 10:30 Check-in and Networking
10:30-10:45 CWC Announcements
10:45 AM – 12:15 PM: Featured Presentation
12:15 – 12:45: Q&A, Book Signing if applicable
Refreshments provided; admission is free.
For our 2022 calendar of speakers, visit our Event Calendar page.
Questions about Coastal Dunes CWC Membership?
Visit our membership page: Membership
Use our Contact Form for specific questions: Contact