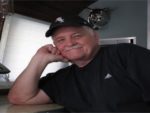 Jim Grayson will present "Great Stories—How the Pieces Fit Together" at the Tri-Valley Writers June 18, 2022 meeting. This presentation deals with the use of characters, plot, setting, and conflict and how they can combine with dialogue, inner thought, action, and reaction to bring out the best in your stories. Together, we'll delve into an author's journey of discovery into the creation of great stories.
This meeting will be a hybrid meeting. Registrants have the choice to meet in person at the Four Points by Sheraton or online.
Join us on Saturday, June 18, 2022 at 2:00 p.m.
REGISTRATION DETAILS:
There is a two-step RSVP & Payment process:
An Email RSVP is REQUIRED at reservations@trivalleywriters.org by Friday, June 17. (Please specify your attendance preference: i.e. In-Person or Zoom).
Payment is REQUIRED (see below) 
Meeting Cost: $14 CWC Members, $18 non-CWC member, $6 CWC students (ages 14-22 w/school ID), and $10 non-CWC students
Jim Grayson is a man who works to live. His pursuits have included flying airplanes and helicopters, SCUBA instructor, ski patrol, sailing, and other adventures designed to pry him off his couch. His professional law enforcement career began in the 1970s, when he served as patrol officer, sergeant, watch commander, and patrol division commander. Jim's tenure has always emphasized de-escalation techniques or calming the waters during potentially violent encounters. That career was followed by 22 years in security management and consulting, including 5 years with UCLA's Southern California Injury Prevention Research Center exploring crime prevention in schools and small retail establishments. Jim's interests include writing in various forms, including reports, poetry, songs, short stories, magazine articles, and Chicken Soup for the Soul. Ten years ago his writing interests shifted to novels. Jim has written 4 novels and self-published one: Trailer Vamp – Love Bites.
 CONSENT TO BE RECORDED
By registering for this meeting, you acknowledge that the meeting may be recorded. Your consent is implied when you register. You have the option once you're in Zoom to use video or not.
All registrants will receive an email 1-2 days after the event with the timed link to the recording of the meeting. This email is sent via a "bcc" list—to adhere to your privacy. If you do not receive the email, please check your email's spam/junk or promotions folder.
NOTE: Zoom limits our meetings to the first 100 registrations.
Questions? Email Jordan Bernal at president@trivalleywriters.org.